Council At-Large
---
Connect
---
Resume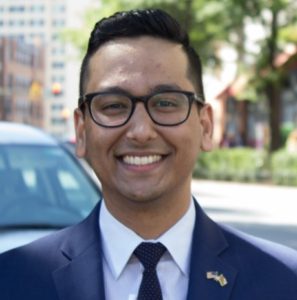 POLITICAL EXPERIENCE
ASSOCIATE DIRECTOR OF EXTERNAL AFFAIRS, Office of Secretary Sylvia Burwell, Department of Health and Human Services (September 2016 – January 2017)
Serve as the Secretary's lead representative for managing the Affordable Care Act's Open Enrollment engagement and partnership with the private sector, hospital associations, and other healthcare providers
Develop strategic outreach plans around opioid abuse issues with hospital associations and healthcare providers
DIRECTOR OF OUTREACH, Cancer Moonshot Summit, Office of the Vice President, The White House (June 2016 – September 2016)
Spearheaded Vice President Biden's Cancer Moonshot Summit by designing and executing the first 50 state outreach strategy, resulting in 273 regional summits
Responsible for finding new partners and building coalitions with organizations around the country composed of patients, survivors, researchers, physicians, and business leaders
Featured in an official email from the White House: https://www.whitehouse.gov/blog/2016/05/25/email-ashwani-jain-im-cancer-survivor
DEPUTY WHITE HOUSE LIAISON, Office of Secretary Julian Castro, U.S.    Department of Housing and Urban Development (March 2015 – September 2016)
Cultivated the Secretary's relationships with internal stakeholders by creating and developing efforts for appointee retention, engagement, and interagency collaboration
Liaised between HUD and the White House for all political personnel issues
Oversaw all logistics for 25 political stakeholder events for the HUD Secretary around the country
STAFF ASSISTANT FOR OUTREACH AND RECRUITMENT IN PRESIDENTIAL PERSONNEL, Executive Office of the President, The White House (February 2014 – March 2015)
Served as the White House's lead representative in politically sensitive engagements with over 400 constituencies and political leaders from across the country, to recruit qualified and diverse candidates to roles across the Executive Branch
Developed and implemented comprehensive outreach plans and mentorship programs for Presidential Appointees across the Executive Branch
SPECIAL ASSISTANT, Climate Action Campaign, Brass Tactics (July 2013 – October 2013)
Built and activated partnerships with a wide range of constituency leaders to generate earned media coverage that promoted the Obama Administration's efforts to combat climate change
SPECIAL ASSISTANT, National Issues Team, Organizing for Action (OFA) (February 2013 – May 2013)
Organized the first and only state-wide OFA fundraiser with Jon Carson
DEPUTY OUTREACH DIRECTOR, The Action, Common Purpose Project (November 2012 – January 2013)
Planned and managed earned media events nation-wide to support the President's Fiscal Cliff deal
REGIONAL FIELD DIRECTOR, Maryland Democratic Party Coordinated Campaign, Obama for America (OFA) (August 2012 – November 2012)
MARYLAND STUDENT DIRECTOR, Obama for America (OFA) (January 2009 – August 2012)
MARYLAND FIELD COORDINATOR, Obama for America (OFA) (February 2007 – January 2009)
Served as primary liaison between the campaign and elected officials and community leaders in Montgomery County
Raised student awareness and activism for President Obama's legislative agenda in over 60 colleges and high schools
PRIVATE SECTOR EXPERIENCE
MANAGER: SALES AND CUSTOMER RELATIONS, Jain Sales, Inc. (January 2005 – February 2014)
Managed relationships with customers and sales agents, which included outreach to local business leaders who could promote our business; engaged customers who could become sales agents and created mechanisms for feedback
Developed new revenue streams that engaged sales agents and new customers through a novel in-home sales system (increased yearly sales from $750,000 to $1.4 million)
NON-PROFIT | COMMUNITY SERVICE | VOLUNTEER EXPERIENCE
Make-A-Wish Foundation of the Mid-Atlantic (January 2010 – Present)
DC Professional Council Board Member (October 2016 – Present)

Foster new partnerships for the Foundation by developing strategic fundraising and awareness This includes securing a new corporate partnership with Lyft

Wish Grantor and Wish Ambassador (January 2010 – Present)

Promote engagement with the Foundation by sharing my story and performing magic shows for Wish Kids
Serve as the liaison between the Wish Family and the Foundation to plan and execute a "wish"
Featured in a Make-A-Wish-Mid-Atlantic profile video: https://www.youtube.com/watch?v=pXmvqtBu-CM

Democratic National Convention (July 2016)

Visibility Team Volunteer – Floor Operations and Logistics
Assisted in maintaining message discipline throughout the four days of the Convention by assembling and distributing signs to elected delegates throughout the arena
My Brother's Keeper White House Leadership Program (August 2014 – February 2015)

White House Mentor

Provided leadership and mentorship support to high school students in the D.C. area
Honors
Winston Churchill High School Graduation Ceremony (May 2014)

Invited as the first alumni, and youngest, Commencement Speaker

The American Cancer Society (January 2010 – January 2016)
Motivational Speaker at Relay for Life Events
Education
George Washington University (August 2017)

College of Professional Studies – Master's (M.P.S.) in Political Management

University of Maryland, College Park (May 2012)

Robert H. Smith School of Business – Bachelor's (B.S.) in Business Management
College of Behavioral and Social Sciences – Bachelor's (B.S.) in Government and Politics
---

Q&A
Find out what the County Council Candidates Think About the 9% Property Tax Hike »
Q: Describe yourself on the political spectrum (i.e., fiscal conservative/social liberal, libertarian, social moderate/fiscal liberal).
A: I am a progressive who believes that local government should work to engage and empower residents for the good of Montgomery County.
Q: What is the biggest challenge facing Montgomery County today?
A: We have an opportunity gap among our residents. We need equitable access to education, jobs, housing and transportation for all.
Q: What is the one thing – project or program – that you want to achieve?
A: A MoCo BioTech Fair to make us a national leader in innovative drug development & better access to drug trial data. Expands biotech jobs.
Q: How will you pay for your project/program?
A: Public and private funds from our county government, medical and research institutions, and biotech industry leaders.
---