Council At-Large
---
Connect
---
Biography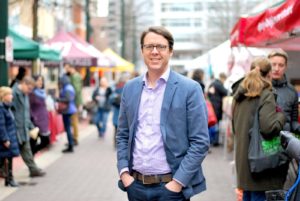 Hans Riemer serves as an At-Large Member of the Montgomery County Council, where he represents more than 1 million residents in an inclusive, metropolitan community.
Hans has dedicated his career to public service and his dream of creating opportunity for all people to achieve their potential. As a Councilmember, Hans works towards his vision by advocating for public education and public transportation, early childhood programs, libraries, recreation, human services, housing and economic development.
Hans currently serves as Chairman of the Metropolitan Washington Air Quality Committee (MWAQC) and one of only two county officials nationally on the FCC Intergovernmental Advisory Committee (IAC). In the Montgomery County Council, Hans serves as the Lead for Digital Government as well as on the Committees for Planning, Housing, and Economic Development (PHED) and Government Operations & Fiscal Policy (GO).
Hans has a passion for progressive change that comes from his roots in Oakland, California, and the commitment to social justice that he learned from his parents, who were active in the community.
His background in public policy and political engagement prepared him well for service as a Montgomery County Councilmember. Hans previously served as:
Senior Advisor for AARP: Hans worked to help Americans gain access to retirement savings through the "Auto IRA" initiative and he helped organize a community volunteerism program.
National Youth Vote Director for Barack Obama: Hans helped young voters raise their voices for change by electing Barack Obama in 2008, starting with the landslide turnout of young voters in the Iowa Caucus.
Political Director for Rock the Vote: Hans guided political programs as Rock the Vote registered nearly a million young voters during the 2004 election. He organized a Democratic presidential candidates debate with CNN and an advocacy campaign promoting the young adult health insurance option, which later became a key provision of Obamacare.
Social Security campaign director: A nationally recognized leader on Social Security, Hans played a pivotal role organizing the Democratic coalition that stopped President Bush from privatizing Social MoveOn.org's Tom Matzzie called Hans "one of five people in the country most responsible for protecting Social Security from George Bush."
Hans and his wife Angela live in Takoma Park, along with their two sons, Henry and Travis, both MCPS students. They love the community life that is available to residents of Montgomery County.
Hans was born and raised in Oakland, California and graduated from the University of California at Santa Cruz in 1995. He was elected to the Council in 2010 and re-elected in 2014.
---

Q&A
Find out what the County Council Candidates Think About the 9% Property Tax Hike »
Q: Describe yourself on the political spectrum (i.e., fiscal conservative/social liberal, libertarian, social moderate/fiscal liberal).
A: I am a socially progressive and fiscally responsible elected official who understands that government can and must be a positive force in providing opportunity for all.
Q: What is the biggest challenge facing Montgomery County today?
A: Montgomery County of today is very different than 10/20 years ago. Our biggest challenge is meeting the changing needs of our community. We must reinvent education, transportation, and economic development, while protecting our environment and promoting equity/social justice.
Q: What is the one thing – project or program – that you want to achieve?
A: Improving housing affordability by increasing our housing supply through master plans, public investments and reforms to our zoning code.
Q: How will you pay for your project/program?
A: By re-prioritizing county expenditures.
---