Melissa McKenna
County Council At Large
---
Connect
---
Resume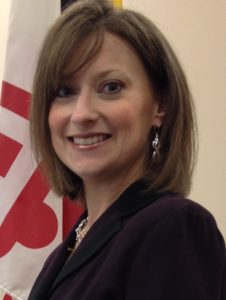 Education
Master of Arts in Shakespeare Studies 1995, The Shakespeare Institute of The University of Birmingham, Stratford-upon-Avon, England
Bachelor of Arts in English with high honors 1993, University of Texas at Austin
Current Occupation
Education and Community Advocate
Relevant Experience
Montgomery County Council of PTAs (MCCPTA)

 Executive Officer (2015-2017)

Vice President of Programs (2016-2017)
Recording Secretary, Delegates Assembly (2015-2016)

MCCPTA Capital Improvements Program Committee Chair (2015-2017)
MCCPTA Rockville Cluster Coordinator (2014-2016)
Maryvale Elementary PTA Executive Officer

Vice President of Advocacy (2014-2016)
President (2013-2014)
Treasurer (2011-2013)

Women's Legislative Briefing 2018, Co-Chair Emerging Leaders program
City of Gaithersburg Ad Hoc Committee on CPSC site redesign, 2015-2017. Testified in Annapolis to secure
$200,000 in state bond funding.
City of Rockville Southlawn Study Group, (2015-2016)
Extensive successful advocacy and testimony on behalf of 45,000 member organization representing 161,000 students to the Board of Education, County Council, Planning Board, the Cities of Rockville and Gaithersburg, and in Annapolis. Built solid, working relationships with elected officials at all levels.
Vice Precinct Chair for Montgomery County Democratic Central Committee. (09-001) (2014-present)
Most Significant Achievements
Part of a team that convinced the County Council to exceed Maintenance of Effort funding for the MCPS Operating Budget for the first time in 2016 by $87M. Repeated this feat in 2017 by $21.5M for a total of $108.5M per year in perpetuity.
Increased MCPS Capital Improvements Program (CIP) funding with the Council. Resulted in $67M more in 2016-2017.
Brought $18M in new MCPS CIP grant funding from Annapolis in 2015 and 2016 for school systems experiencing rapid enrollment growth.
Successfully worked with MNCPPC Planning Board and staff, and County Councilmembers and staff on 2017 Subdivision Staging Policy revision for school infrastructure: increased capital funding from impact tax revenue for school CIP projects from 90% to 120% of the cost of a seat; better enrollment projections by housing type; and changed to individual schools test from former cluster thresholds.
Successfully testified and advocated with Maryland State Educators Association, March 8, 2018 for the Education Trust Fund Lockbox for casino gambling revenue as a constitutional amendment.
Awards
May 2016 MCBRE Champions for Children – MCPS Volunteer award.
April 2016 MCPS Board of Education Distinguished Service to Public Education Award to a Community
Individual.
Senatorial Citation April 28, 2016 from Roger Manno (D-19) for distinguished service to public education.
Legislative Citation April 28, 2016 from Jeff Waldstreicher (D-18) for distinguished service to public education.
Senatorial Citation May 11, 2015 from Cheryl Kagan (D-17) for service on behalf of special education students
and their families.
Recent Employment History
Director of Publications, May 1998-March 2002, Society of Nuclear Medicine, Reston, VA. Supervised editorial and production staff of seven. Responsible for ~$2M journals, books, and administrative budgets. Oversaw monthly and quarterly peer-reviewed journals with 17,000 circulation, two bi-monthly newsletters, and book publishing program. Oversaw successful launch of journals online.
---

Q&A
Find out what the County Council Candidates Think About the 9% Property Tax Hike »
Q: Describe yourself on the political spectrum (i.e., fiscal conservative/social liberal, libertarian, social moderate/fiscal liberal).
A: Socially liberal and fiscally moderate.
Q: What is the biggest challenge facing Montgomery County today?
A: Lack of economic growth to support funding our schools and vital social services.
Q: What is the one thing – project or program – that you want to achieve?
A: Greater educational success preparing students for LIFE in community. An 89% graduation rate at ALL high schools.
Q: How will you pay for your project/program?
A: Consistent, robust funding of MCPS operating and CIP budgets. Greater funding from Annapolis; Education Trust Fund lockbox is a first step.
---