Mohammad Siddique
County Council At Large
---
Connect
---
Biography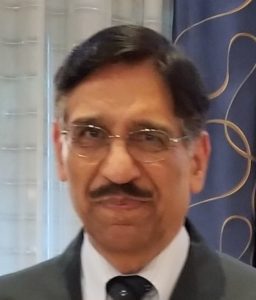 A naturalized citizen immigrated to the US 44 years ago in 1974, from Pakistan.
Received his first masters from the University of Utah in Salt Lake City.
Received his MBA from Saint Joseph's University in Philadelphia.
Engineer by training worked in Private sector in various positions over 35 years in Engineering and Construction fields such as power plants (Nuclear & Fossil), Telecommunications, Pipeline, Mining, Manufacturing.
Worked over five years with federal and local governments, including over three years as a political appointee in Ike Leggett's first cabinet.
Political activist since 1960s.
Resident of Montgomery County for over 25 years. Have been local political arena ever since.
Have worked on various campaigns including Congressional races of Terry Lierman & Chris Van Hollen. County Executive race of Ike Legget and Governor's race of Kathleen K. Townsend and Martin O'Malley and several other local races.
Driving force behind community involvement in civic affairs.
Over the years have been involved as volunteer in civic organizations, such as Muslim Community Center, The Pakistan Association, Asian American Political Association and many others.
---

Q&A
Find out what the County Council Candidates Think About the 9% Property Tax Hike »
Q: Describe yourself on the political spectrum (i.e., fiscal conservative/social liberal, libertarian, social moderate/fiscal liberal).
A: I consider myself Fiscal Conservative & Social Liberal.
Q: What is the biggest challenge facing Montgomery County today?
A: Our county faces several challenges and I feel maintaining high ranking of our school system is one of the biggest challenges. Currently our school system is slipping in ranking. This must be checked by providing more funding for school construction, better teaching resources. That will help reduce the achievement gaps between difference zip codes. The education of our youth should never be compromised. We have most educated and skillful workforce. Focus on education will help us maintain that edge over neighboring jurisdictions. Educated workforce attracts employers and high paying jobs, hence essential for our economic growth. We should make community colleges free of charge. Check next questions how we will pay for these.
Q: What is the one thing – project or program – that you want to achieve?
A: As an immigrant to this country 44 years ago, I felt Education empowered me to achieve my American dream. Education is one thing I will like to provide adequate resources to keep our county ahead. Education fuels economic engine.
Q: How will you pay for your project/program?
A: Belt tightening in the county expenditure will help us yield savings in spending without compromising services to our community. My experience with private sector has prepared me to control budget and schedules for various capital and maintenance projects. With my personal experience with the county workings I can say, there is negligent waste and miss-use of resources which can be addressed. I being an expert in this I can say we have to train our county workforce with methodology to save money on projects. There will be minimal cost. I feel we can save 8-9% of capital and maintenance budget. The savings can be diverted to education, road maintenance and services to the community. Same methodology will be recommended to the School system to achieve savings.
---