Council District 4
---
Connect
---
Biography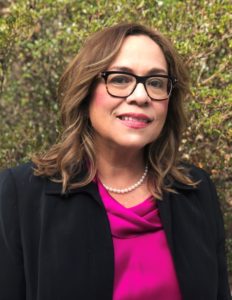 Nancy Navarro was elected to represent District 4 on the Montgomery County Council in a special election on May 2009 and re-elected in the general election on November 2010 and 2014. Montgomery County is the largest jurisdiction in Maryland, with over 1 million residents (17% Latino) and a budget of over $5 billion. District 4 is majority people of color, and 25% Latino. Nancy is the first Latina member of the Council.
She currently serves as the Council's Vice President and has served as Council President in 2013 and Council Vice President the year before. Since December 2010, she has chaired the Government Operations and Fiscal Policy (GO) Committee, and served on the Health and Hu- man Services Committee, until 2013 when she began serving on the Education Committee.
Her office has led the groundbreaking Latino Civic Project, an effort to engage underrepre- sented residents in the civic process.
In October 2011, President Barack Obama appointed Nancy as a member of the President's Commission on Educational Excellence for Hispanics, where she serves on the Early Childhood Education Committee.
Prior to joining the Council, Nancy was a member of the Montgomery County Board of Educa- tion, where she served two consecutive terms as the Board's President. She was first appoint- ed to the Board of Education in October 2004 to fill a vacant seat. On November 2006, she was elected to a full four-year term. Nancy chaired the Communications and Public Engage- ment Committee, and was a member of the Board's Strategic Planning Committee. During her term as President, Nancy created an award winning Translation Unit that provides simultane- ous translation for parents who do not speak English.
Nancy graduated with a bachelor's degree in Psychology from the University of Missouri-Co- lumbia. During the summers of 2007 and 2008, she participated in the Public Education Lead- ership Project (PELP) at Harvard University, a dynamic professional development program whose mission is to improve the management and leadership competencies of public school leaders in order to drive greater educational outcomes. The Montgomery County Public Schools' team focused on race, poverty and the academic achievement gap.
Nancy has served in a number of volunteer leadership roles. Currently, she sits on the board of directors of The Metropolitan Council of Governments, and the Ana G. Mendez Advisory Board. She served on the Board of Directors of The Reginald S. Lourie Center for Infants and Young Children. She is a graduate of IMPACT Silver Spring 2001 Leadership Program, and Lead- ership Montgomery Class of 2009.
Nancy has received numerous awards and recognitions, including: the Maryland State Depart- ment of Education's Women Who Dare Leadership Award; the U.S. Hispanic Youth En- trepreneur Education's Hispanic Hero Award; the 2009 and 2013 Maryland's Top 100 Women Award; and the Mid-Atlantic Hispanic Chamber of Commerce's 2010 Elected Local Government Official of the Year Award.
Before entering public office, Nancy co-founded a non-profit, community-based organization with a mission to assist the economic and educational development of Latino and other immi- grant communities. School readiness, healthy family development, and academic achieve- ment were the primary focus of the organization.
She was born in Caracas, Venezuela and has lived in Montgomery County for more than two decades with her husband, Reginald, and two daughters, Anais and Isabel.
---

Q&A
Find out what the County Council Candidates Think About the 9% Property Tax Hike »
Q: Describe yourself on the political spectrum (i.e., fiscal conservative/social liberal, libertarian, social moderate/fiscal liberal).
A: Economic Development & Social Infrastructure
Q: What is the biggest challenge facing Montgomery County today?
A: Change Management
Q: What is the one thing – project or program – that you want to achieve?
A: District 4 Redevelopment/Revitalization
Q: How will you pay for your project/program?
A: Public/Private Investment
---