Council At-Large
---
Connect
---
Resume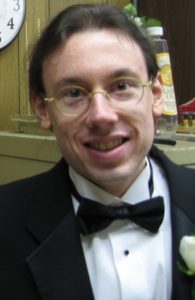 Education
BA – Cum Laude, History. University of Maryland at College Park.
Career
FOUNDER/PUBLISHER, Suburban News Network (2006-present). Professional musician, producer and recording artist.
Activities
Civic activist on transportation, development and disability access issues (2006-present).
Elected member, Montgomery County Republican Central Committee (District 16), (2006-2010)
---

Q&A
Find out what the County Council Candidates Think About the 9% Property Tax Hike »
Q: Describe yourself on the political spectrum (i.e., fiscal conservative/social liberal, libertarian, social moderate/fiscal liberal).
A: Populist.
Q: What is the biggest challenge facing Montgomery County today?
A: Our incompetent County Council. They can't deliver infrastructure, don't understand how
business works, can't execute basic functions of government.
Q: What is the one thing – project or program – that you want to achieve?
A: Complete our master plan highway system: M-83, new Potomac River crossing to Dulles, Montrose Parkway East, I-270/495 Express Lanes.
Q: How will you pay for your project/program?
A: Toll road/bridge over Potomac and Express Lanes built by private firms will cost taxpayers almost nothing. M-83/MPE will be County funded.
---