Council District 1
---
Connect
---
Resume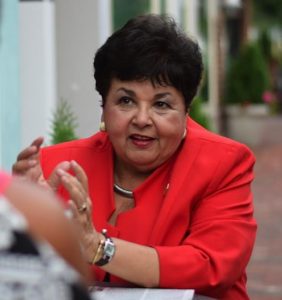 Education
Harvard University, John F. Kennedy School of Government, Senior Executive Graduate Program Master of Science, Technology of Management, Scientific & Technical Information Systems
(STINFO), and Management Information Systems, The American University, Washington DC Bachelor of Science, Chemistry, Pennsylvania State University
Post-Graduate Studies, Applied Engineering, George Washington University University of Geneva, Geneva, Switzerland. Arts and Letters Diploma
Professional Experience Summary
State Elected Official – Maryland State Legislator, Maryland General Assembly, District 18-Montgomery County, MD. Elected in 2002, 2006, and 2010 to serve three four-year terms in the Maryland House of Delegates. Serving on the House Appropriations Committee, Subcommittee on Health and Human Services, Chair the Joint Committee for the Management of Public Funds. Joint Committee for Children, Youth, and Families, and Joint Committee on Welfare. Previously, elected to the Montgomery County (MD) Board of Education serving as president and vice president during two four-year terms from 1990-98. Elected as the first Salvadoran-American to public office in the USA (1990). Named among Top 100 Women in Maryland; Top 100 Hispanics in
Federal Executive Public Policy Administrator – Senior Executive/ Deputy Administrator at the U.S. Dept. of Transportation's Research and Special Programs Administration (RSPA) responsible for public policy formulation, directing and management of federal transportation research and transportation safety regulatory programs. Lead USDOT's Strategic and Information Technology planning activities, and implementation of National Science and Technology Council (NSTC) and National Performance Review (NPR) government improvement initiatives.
IT Consultant/President and CEO of Own IT Firm providing management and technical consulting expertise to clients to plan, design, and implement information technology solutions to enhance organizational effectiveness and improve customer services including: strategic planning, enterprise architecture development, technology infrastructure and risk assessments, business process re-engineering, cost/benefit and work flow analyses, and improved education and training
Senior Systems Engineer / Senior Program Manager with over 30 years of past experience in private, corporate information industry and computer systems engineering. Operations and program manager working with major IT companies on numerous complex computer systems development programs for IRS, NASA, DOT-FAA, GSA and other federal government agencies. Application of state-of-the-art information systems and software engineering methodologies to the full life-cycle development process, and systems assurance using SEI's Capability Maturity Model and TQM
Related Experience And Skills
S. Citizen; Security Clearance Level, Top-Secret (USDOT) and IRS MBI
Trilingual: English, Spanish, and French (written and verbal fluency)
Excellent Communication Skills, both Verbal and Written
International Consulting Experience, IT Management, in Latin America
Academic Experience: Assoc. Professor, Systems Engineering/Computer Systems Applications
Lecturer: Immigration Policy, Education Technology, Business Process Improvement, Diversity in the Workplace
Extensive Knowledge of K-12 Public Education Policy, Funding, and Technology Issues
Computer Systems Expertise: Enterprise Architecture, Strategic Planning, Business Process Re-Engineering, Project Management, Quality Management, Privacy, Security, Data Management, Database Design,
DETAILED EMPLOYMENT HISTORY 
MARYLAND STATE DELEGATE REPRESENTING DISTRICT 18, Maryland House of Delegates, Montgomery County, MD (2002 to present)
Extensive public policy experience in state budgets preparation, state finance, health care, education, transportation. Serving three four-year terms in the Maryland House of Delegates. Serving on the House Appropriations Committee, Subcommittee on Health and Human Services, Joint Committee for Children, Youth, and Families, and Joint Committee on Welfare. Chair the Joint Committee for the Management of Public Funds. Also served on the House Judiciary Committee for four years.
PRESIDENT/CEO, Sol Quality Systems, Inc., Chevy Chase, Maryland (2006 to present)
Lead management consultant focusing on information systems analysis, design and engineering. Areas of expertise include: enterprise architectures, strategic planning, business process re-engineering, quality assurance and IV&V, intelligent transportation systems, education technology systems, and scientific and technical information systems. Public and private sectors clients included: National Science Foundation, Federal Communications Commission, U.S. Census Bureau, US Department of Education, Smithsonian Institution, National Assoc. of Boards of Education, Prince Williams Public Schools, Chicago Board of Education, Nat. Assoc. Chemical Distributors Foundation, Mexican Institute for Education, Sao Paulo (Brazil) Ministry of Education, Chilean Ministry of Education, among others.
DIRECTOR, Computer Sciences Corporation, CSC Federal Sector, Rockville, Maryland, and Fairfax, Virginia (1998- 2006)
Director Strategic IT Consulting Group, providing e-government consulting solutions to numerous government agencies. Past Director of Quality Management for the IRS Modernization PRIME Alliance Program, a major business systems modernization, engineering and development contract for the Internal Revenue Service with a potential $15-billion value over 15 years. Directed major enterprise architecture and BPR contracts for several Federal agencies including the Department of Education, DOJ/ Office of United States Attorneys, Federal Bureau of Investigation, Social Security Administration. Responsible for directing and implementing program-wide quality management based on CSC's state-of-the art business and systems engineering methodologies, Catalyst, and SEI's Capability Maturity Models.
DEPUTY ADMINISTRATOR, Research and Special Programs Administration (RSPA), U.S. Department of Transportation, Washington DC (1994-1998)
Senior Executive (SES) appointed by President Clinton as the RSPA Deputy Administrator. Provided senior executive leadership, federal policy oversight and direction to all RSPA programs, budgets (approx. $150M budget with over 1000 employees at three national locations). Responsible for defining and implementing federal public policy and directing RSPA's regulatory, research and development, and safety programs: Hazardous Materials Transportation Safety, Pipeline Safety, Emergency Transportation and Disaster Response, University Research and Education Grants, Research Policy and Technology Transfer, as well the Volpe National Transportation Systems Center in Cambridge, MA, and the Transportation Safety Institute in Oklahoma City, OK.
Prepared USDOT's Long-Term Plan for Information Technologies in preparation of establishing USDOT's Chief Information Office and directed RSPA's first strategic plan. Served as USDOT co-chair of the National Science and Technology Council (NSTC) Interagency Committee on Transportation Information Infrastructure; USDOT's representative on NSTC's Computers and Information, Fundamental Science, Education and Training committees, and U.S. Dept. of Commerce's National Information Infrastructure (NII) Task Force; on the Board of Directors of the Intelligent Transportation System (ITS) America program. Lead RSPA' s National Performance Review (NPR) initiatives resulting in two Hammer Awards for RSPA programs.
SENIOR CONSULTING ENGINEER, Computer Sciences Corporation (CSC), Systems Sciences Division, Rockville, Maryland (1992-1994)
CSC's Product and Systems Assurance Operations Manager for the FAA's Advanced Automation System Program, a major system/software engineering and development subcontract with IBM Federal Systems for the advanced air traffic control system. Responsible for managing CSC's AAS systems assurance, configuration management, and system/software testing staff. Also served as business development and proposal manager for acquiring major new government contracts. Senior consultant on Total Quality Management (TQM) and business process re-engineering to other CSC corporate centers, and NASA's Goddard Space Flight Center
SENIOR SYSTEMS ENGINEER, Loral Aerosys Technology Programs Division (formerly Ford Aerospace), Seabrook, MD
Senior Systems Engineer providing engineering and technical project management of programs with NASA Headquarters and Goddard Space Flight Center, including requirements, analysis and design of the Earth Observing System's EOSDIS and NASA's Space Station program. Project manager at U.S. Nuclear Regulatory Commission.
SENIOR ASSOCIATE, Booz • Allen & Hamilton, Inc., Information Technology Center, Bethesda, MD
Senior-level technical project management, systems development, strategic planning, and business process re- engineering as well as successful business development activities –marketing and proposal management– for various Federal agencies including NASA, NOAA, GSA, IRS, and INTELSAT. Directed technical support contract for NASA's Code Q and its newly created Safety and Systems Assurance programs after the Shuttle accident.
TECHNICAL DEPARTMENT MANAGER, Computer Sciences Corporation (CSC), Systems Sciences Division, Calverton, MD
Technical Department Manager /Software Quality Assurance (SQA)/ Configuration Management (CM) on major government systems/software engineering and development contracts including the Federal Aviation Administration, the United States Air Force, and NASA Goddard Space Flight Center as well as various software engineering subcontracts with IBM's Federal Systems Division.
DISTRICT TECHNICAL SUPPORT MANAGER, Wang Laboratories, Inc., Federal Systems Division, Wash. DC
INTERNATIONAL MANAGEMENT CONSULTANT, Sisteco, S.A., Management Consultant, Caracas, Venezuela • La Paz, Bolivia • Lima, Peru.
ASSOCIATE PROFESSOR, Universidad Mayor De San Andres, Department of Mathematics and Computer Sciences, La Paz, Bolivia.
DIRECTOR, Intevep, Venezuelan Petroleum Research Institute, Technical Petroleum Information and Research Systems, Caracas, Venezuela.
ASSOCIATE PROFESSOR, Universidad Simon Bolivar, University Simon Bolivar Mathematics Department, Caracas, Venezuela
INFORMATION SCIENTIST, Herner and Co – STINFO for NIH, NCI, NAS.
CHEMICAL INFORMATION SPECIALIST, WRITER, American Chemical Society, Washington, DC
PROFESSIONAL ORGANIZATIONS
National Conference of State Legislatures (NCSL) (2002 to present)
National Association of Latino and Appointed Officials (NALEO) (2002 to present)
Society of Hispanic Professional Engineers (SHPE), MD/Washington, D.C. Chapter National Management Association (NMA), President, Local Chapter
National Management Association (NMA), President, Local Chapter
PERSONAL INFORMATION
Naturalized U.S. Citizen, Born in Santa Ana, El Salvador
Life-long Resident of Montgomery County, MD (since 1947)
Member, Board of Trustees, Capitol College, Laurel, Maryland
Board Chair, Montgomery County Education Forum (MCEF)
Former Board Chair, CASA de Maryland
Pro-bono advisor and community service advocate with educational and non-profit Organizations
Recognized Latino leader and advocate, Radio & TV commentator, immigration policy lecturer and researcher.
---

Q&A
Find out what the County Council Candidates Think About the 9% Property Tax Hike »
Q: Describe yourself on the political spectrum (i.e., fiscal conservative/social liberal, libertarian, social moderate/fiscal liberal).
A: SOCIAL PROGRESSIVE/FISCAL MODERATE
Q: What is the biggest challenge facing Montgomery County today?
A: WIDE DISPARITIES BETWEEN THE HAVE AND THE HAVE NOTS
Q: What is the one thing – project or program – that you want to achieve?
A: EDUCATIONAL EQUITY
Q: How will you pay for your project/program?
A: INCREASED FAIR SHARE OF STATE FUNDING FOR EDUCATION (Via Kirwan and Knotts Commissions school funding reforms)
---