County Executive
---
Connect
---
Resume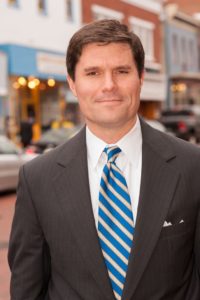 Professional Experience
ATTORNEY AT LAW, Akin Gump Strauss Hauer & Feld, LLP, Washington, DC (2000-Present)
Successful tenure in one of the nation's leading law firms, addressing complex legal, business, and policy challenges as a litigator and leader of cross-disciplinary
Versatile advocate and practical problem-solver. Representative matters include:

Represented high-tech firm in administrative negotiations with state tax and economic development
Led successful team defense of Fortune 500 company in lengthy and sensitive Federal Trade Commission
Assisted federal antitrust investigators in landmark unfair competition case related to capture of industry standards by a patent
MAJORITY LEADER, Maryland General Assembly, Annapolis, MD (2017-Present)
STATE DELEGATE, Maryland General Assembly, Annapolis, MD (2007-Present)
Elected to represent one of the nation's most educated and engaged communities in the state legislature. Deemed a "rising star in the legislature" by the Washington Post.
Rapidly rose in seniority, serving as a Majority Leader of House's 91
Built relationships across the ideological and partisan spectrum in support of common-sense, good government reform in areas of tax expenditures and public administration.
Exceled in explaining and defending complex legislative initiatives during floor debates, negotiating legislative language, and mastering complicated issues under pressure and on a short time
Engaged in National Conference of State Legislatures; built extensive network of federal, state and local leaders across the S.
Chair, Joint Audit Committee
Education
Harvard Law School, Juris Doctor, Cambridge, MA, (June 2000)

Editor, Harvard Journal on Legislation

Northwestern University, Bachelor of Arts, Majors in History and Political Science, Evanston, IL (June 1997)

Awarded the Illinois Lincoln Laureate, given to the university's most outstanding graduate
Elected Student Government Vice-President
Personal
Named Washingtonian Magazine's "Best Local Politician," June 2016.
Married to a successful business consultant; father to two "Fricklets," ages 11 and 9.
---

Q&A
Find out what the County Executive Candidates Think About the 9% Property Tax Hike »
Q: Describe yourself on the political spectrum (i.e., fiscal conservative/social liberal, libertarian, social moderate/fiscal liberal).
A: I support inclusive social policy and common sense economic policy. Local government should be targeted, effective & efficient.
Q: What is the biggest challenge facing Montgomery County today?
A: Our County is in an unhealthy spiral, gaining in poverty & needs as its tax base stagnates compared to our peers.
Q: What is the one thing – project or program – that you want to achieve?
A: I want to reorient our political culture & priorities. We can be an inclusive, progressive community AND enjoy a thriving economy.
Q: How will you pay for your project/program?
A: We must focus spending on the core functions of local government: education, transportation and public safety. Those are voters' priorities.
---