By Amy Ginsburg.
Brooke and Timothy Zhang fell in love at Walter Johnson High School, received undergraduate degrees at the University of Maryland, got married while Brooke was a medical student at VCU, and moved to North Carolina when Brooke became a medical resident at UNC Chapel Hill. Brooke, currently the medical director of a rehab facility, and Timothy, a real estate broker, are now the proud parents of an adorable 14-month daughter whose favorite activity is chasing the family dog around the living room.
You'd be hard-pressed to find anyone in Montgomery County who would not want this young, smart family as a neighbor. Every time Timothy and Brooke visit Bethesda, they fantasize about returning to the place they still call home, Montgomery County. Instead, they return to their lives in the Research Triangle and spend too many hours face-timing family and friends.
In North Carolina, Brooke, Timothy, baby Ava, and a large German shepherd live in a 3,000 square foot brand new townhouse with a modern open floor plan. They paid $260,000, including upgrades like a media room, crown molding, and high-end appliances. Brooke works part-time, cramming her 30 hours of work into three days. A career in real estate gives Timothy the flexibility to work when Brooke is home so they both get to share the joy and exhaustion of raising a precocious child.
Working two part-time jobs provides enough money to pay both the mortgage and their substantial student loans and to indulge their desire to eat only organic, locally-raised food and enjoy dinners out at their favorite sushi restaurant. Most importantly, working part-time allows Timothy and Brooke to prioritize time with their daughter. "Our friends back home work 40 or even 50 hours a week then spend an hour fighting traffic to grab a late dinner with their kids," observes Brooke. "They seem to have a lot more pressure and stress that we do."
Brooke and Timothy appreciate their good lives, yet every week, they peruse the listings for Montgomery County houses for sale. $800,000 for a townhouse near Shady Grove. $1,200,000 for a two-bedroom condo in downtown Bethesda. A fixer-upper Colonial in Silver Spring for $750,000. "We don't even want a McMansion with a big yard. All we want a place where we can walk to a coffee shop and a playground. All we want is a townhouse or condo in a good school district." says Timothy. "But what we want, at least at a price we can afford, just doesn't exist back home in Montgomery County. Even if we could afford the mortgage and taxes on a million-dollar property, we certainly don't have $200,000 saved up to use as a down payment."
Brooke chimes in. "I know doctors make good money, but even if we're lucky enough to find jobs that pay $250,000 between the two of us, the cost of living is prohibitively high in Montgomery County. The houses, the taxes, the condo fees, but also restaurants and soccer camp and everything else you want to give your kids. Everything cost so much more than it does here in North Carolina."
She's correct. Housing is four times as expensive in Bethesda. The overall cost of living is 100% higher in Bethesda than it is in Research Triangle. Salaries, however, are not necessarily 100% higher.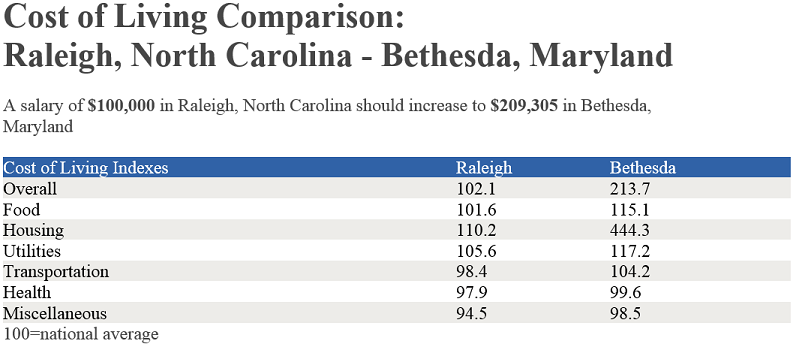 "My commute in Raleigh is fifteen minutes in rush hour. Although frankly, rush hour down here is a good traffic day back in the DC area," says Tommy.
So unable to find housing they want and can afford, unwilling to spend their every waking moment working to afford the cost of living in Bethesda, and detesting the need to waste two hours a day commuting instead of playing with baby Ava and their beloved dog, the Zhang's have opted to stay in North Carolina.
Despite both their family's and their own fervent desire to return home, they will stick to holiday visits and video calling. And Montgomery County will be diminished in a thousand different ways by their absence.