In this year's election, both the County Executive seat and four of nine County Council seats are open. That has never happened before in our history.
This is your chance to decide the direction of county government.
We are a county with more than a million people. Unfortunately, many of them don't vote in our elections. In 2014, 111,231 county residents voted in the primary election (which determines the party nominees for office) and 267,456 voted in the general election. Our turnout rates in the primary (18%) and the general (42%) ranked 22nd out of 24 local jurisdictions in Maryland.
That is no way to get good government.
In Montgomery County, the primary election is THE election. That's because roughly 60% of our general election voters are Democrats. Republicans have not held office here at the state or county levels since 2006.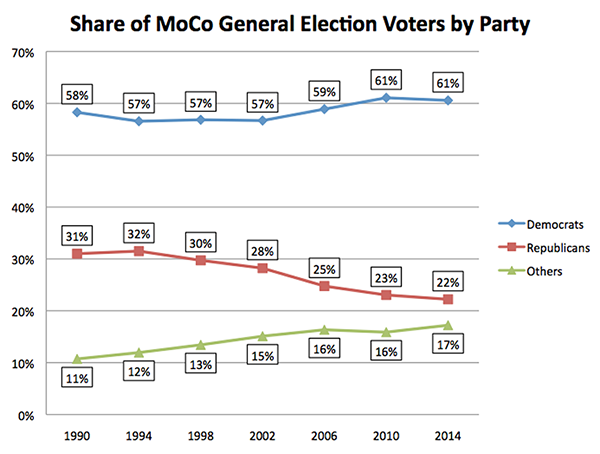 If you want a voice in the county's future, you MUST vote in the primary.
Voting Resources
Register to vote online here.
If you would like to update your registration, including enrolling in a different political party, you can do that here.
Early voting will be available from Thursday, June 14 through Thursday, June 21. Find your early voting locations here.
Election Day is Tuesday, June 26. Find your polling place here.
Learn more about the candidates running in the 2018 Election.
This profile information was provided by candidates who responded to our offer to share it with voters. It does not represent an endorsement by Empower Montgomery.
All Democratic primary candidates were contacted for inclusion in Empower Montgomery's process. The results below reflect the responses of those who chose to reply.
Find out what the County Executive Candidates Think About the 9% Property Tax Hike »
Find out what the County Council Candidates Think About the 9% Property Tax Hike »
Now do your civic duty and VOTE!